conquer the bridge
race info
San Pedro/Port of Los Angeles
Vincent Thomas Bridge
Harbor Blvd
Port of Los Angeles
San Pedro, CA
Monday September 4, 2023
7:00 am
Southern California's biggest Labor Day Race!The race Course will Start and Finish at 5th. and Harbor Blvd.
The course will include 2 trips OVER the amazing Vincent Thomas Bridge
Run Info
Packet Pickup
Parking
Course Map
Trophies & Medals
Merchandise
Run Info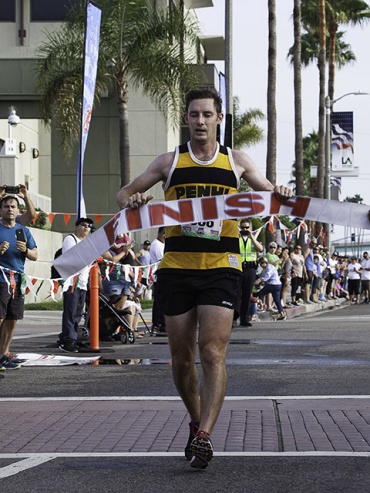 LOCATION: San Pedro/Port of Los Angeles Vincent Thomas Bridge **The Start/Finish line is located where 5th St and Harbor Blvd meet (511 S Harbor Blvd San Pedro, CA 90731)
Online Registration is now closed. You can still register in person on Race Day. Please arrive early.
As a reminder, there are NO refunds for this event. Please note that all Rollover and Bib Transfers for Conquer The Bridge 14 are now closed. Thank you.
All merchandise including official race tee shirt will be available for sale during our three-day packet pickup at Road Runner Sports in Torrance and at the race while supplies last. CASH or CHECK ONLY FOR MERCHANDISE.
IMPORTANT NOTE:
  Per order of CalTrans no backpacks, bicycles, strollers, pets, skateboards etc. are allowed on the bridge. However, you are allowed to wear a fanny pack, camel pack, or a small drawstring backpack.
Additionally, CTB staff are unable to hold any personal items for anyone including at the stage, so please plan accordingly.
Water and bathrooms will be provided. 
Photo: © Reidar Schopp, All Rights Reserved
Packet Pickup
Parking
Course Map
Trophies & Medals
Merchandise
L.A.P.D. Harbor Area Cadets:
Conquer The Bridge is pleased to announce that the L.A.P.D. Harbor Area Cadet Program, will be once again receiving a portion of the race proceeds generated from the Conquer the Bridge Race. The Cadet Program supports youth programs in the San Pedro-Harbor area of Los Angeles.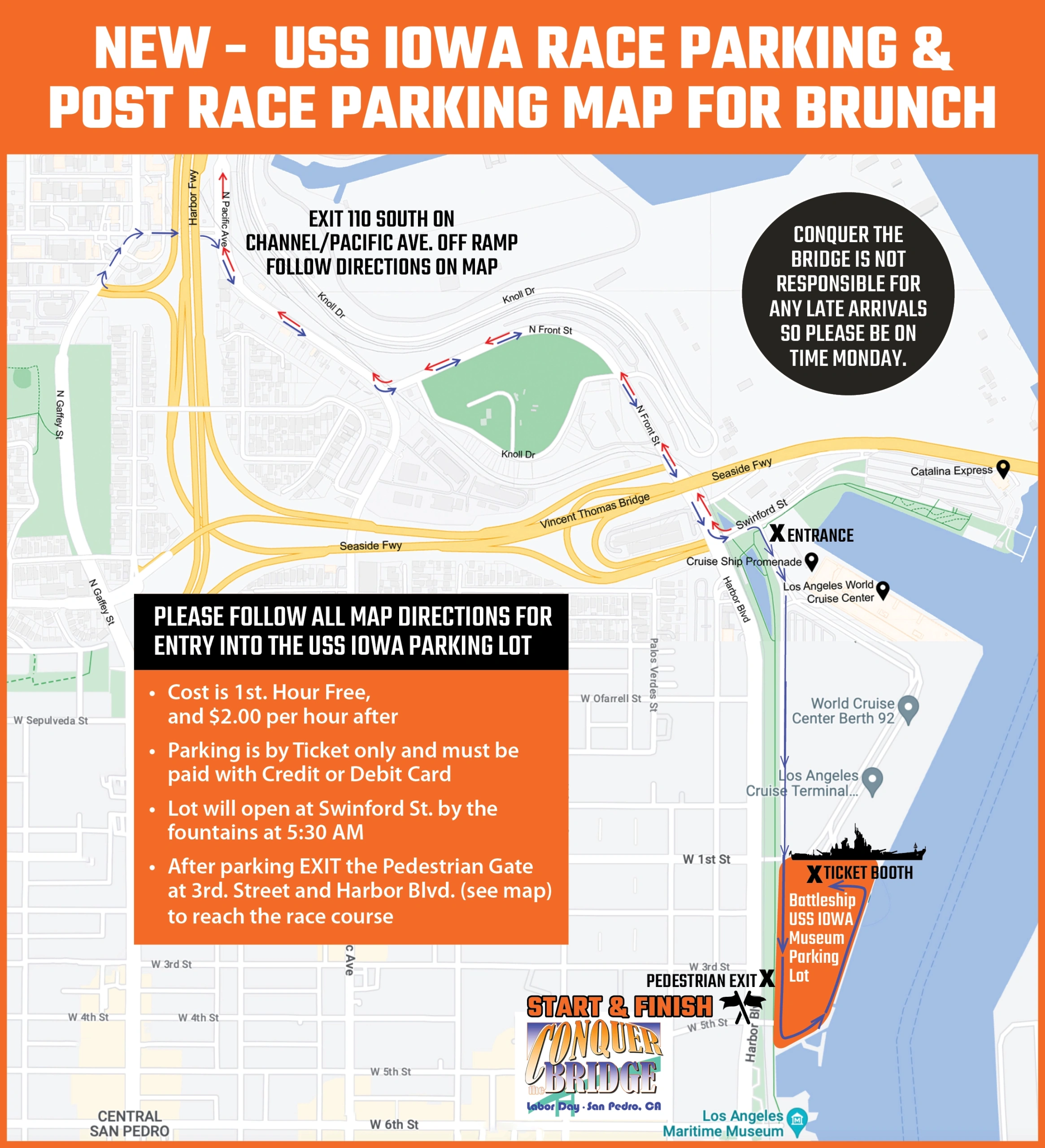 PARKING MAP AND UPDATES
As many of you may know, the long-awaited and exciting West Harbor Development Complex has broken ground in the former Ports of Call Parking lots and surrounding areas. The result is we have been making arrangements for all of you to accommodate your parking needs on Race Day. We have provided a map which outlines multiple options for you to consider. However, PLEASE READ and PAY ATTENTION to the following important information:
PLEASE ARRIVE EARLY THIS YEAR!
There is plenty of FREE street parking. There are NO PARKING METER FEES on Race Day.
Lots P1 and P2 will probably fill up early but we won't know that until Race Day.
The TOPAZ Parking ( P3 ) structure can hold 600 cars but if you intend to pay cash bring exactly $7.00 as they will not be making change. Much appreciated.
If you want to use the P4 lot on 22nd. Street and Miner the best way to get there is to come down 7th. Street and TURN RIGHT onto MINER ST. and take it out to 22nd. Street and park in the lot on the RIGHT side where the Red Car Trolleys will pick you up and take you to 6th. Street. PLEASE FOLLOW DIRECTIONS.
The WEST HARBOR ownership has been wonderful in helping us to put this parking plan together for you. We would also like to extend our sincere thanks to the incredible PBID leadership for arranging our use of the Red Car Trolley's this year.
PLEASE BE FULLY AWARE CONQUER THE BRIDGE IS NOT RESPONSIBLE IF YOU ARRIVE LATE SO PLEASE DO NOT IGNORE THE INFORMATION PROVIDED. THE MAP IS EASY TO FOLLOW. 
SEE YOU ON LABOR DAY MONDAY BRIGHT AND EARLY!!!
Thank you as always.
MPH