Conquer the Bridge
about us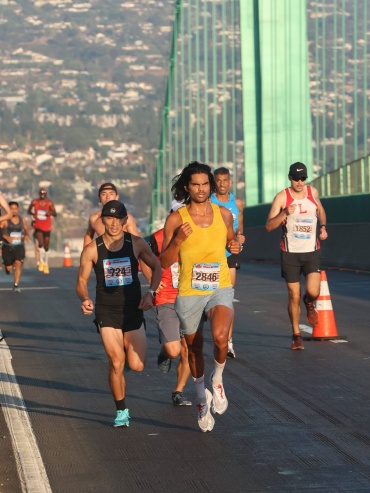 Conquer The Bridge began as an idea over 15 years ago and was created for those who sought a challenge unlike any other in Southern California racing circles. Thousands of runners and walkers join us annually on Labor Day Monday in the picturesque and truly unique city of San Pedro to conquer the 5.3 mile race course over the historical Vincent Thomas Bridge.
Since the very beginning our wonderful partners at the LAPD Harbor Division, and their Booster Club for Kids Program, have worked with us to make our race possible. The program consists of dozens of young kids whose presence on race day is truly amazing. We are also joined by two large groups of the YMCA (San Pedro & Torrance) Youth in Government Programs and staff who assist us with important tasks such as packet pickups and Finisher's Medals distributions.
Our wonderful sponsors and their amazing support help us all reach the finish line each and every year and without them there could be no race. Conquer The Bridge is truly a blue-collar event and so many great individuals and teams come together to make it all possible.
We sincerely hope you will continue to join us to compete and have a grand time with one another. It is our greatest privilege to serve each and every one of you. As always, we thank you so very much for being a part of this race, and we look forward to seeing you for another successful CONQUER THE BRIDGE!
MPH,     
Race Director